Tai Chi & Qigong have been a major part of my rehabilitation and every day life—following a major life changing event on December 19, 2019. I was in a car accident that occurred in an intersection on black ice, in Wisconsin. 
First and foremost, I am blessed to be alive. I had multiple fractures in my body, with one of them resulting in a 10-level fusion of my upper spine. I had two brain bleeds which resulted in issues with the balance, and problems with both lungs. Due to the pandemic, the my in-house physical therapy was discontinued in March 2020. Which meant, I was on my own, living in my condo during the long quarantine. 
My family did porch visits. My therapist continued to work with me by phone calls and emails, since they did not have Zoom classes. I was committed to my 3-hour in-house exercise program with a goal to become the best I could be. 
Upon return to Utah in August of 2020, I was able to attend PT Zoom classes. At this point, I had progressed from learning to walk with a walker, and was now walking like a robot that was welded together from top of neck to the knees with issues in balance.     
In addition to the Zoom classes for PT, I had began researching the best ways to help with my balance, and I read the book, The Harvard Medical School Guide to Tai Chi, and I wanted to learn. The Physical/Neuro Therapists supported this idea, but they didn't offer Tai Chi classes—so I tried to teach myself. This was unsuccessful. 
In April 2021, I joined a Zoom class that was taught 3-4 times a week by Toni through the Wellness Center for the Huntsman Cancer Institute. Her patience and caring flowed through her teaching of Tai Chi / Qigong.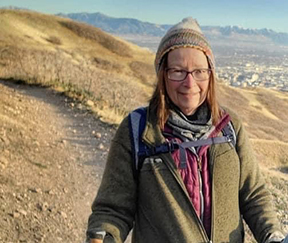 Now at this point, my ability to sense the position of my body in space (proprioception) caused me to have jerky body movements, and my gait was stiff. I used a chair on each side of me during classes to assist in balance. While my Tai Chi movements were of a stiff non-graceful nature, I was very thankful of having found the class, and I didn't care what I looked like. 
In addition to the classes, I had a private session with Toni to assess my posture and learn basics in Tai Chi, the shoulder-width stance, dantien breathing and being present. The focused breathing, learning to balance, being in the moment was beneficial to me spiritually, physically and emotionally. I continued with Tai Chi and Physical/Neuro until I was discharged in July 2022.
When I left, I had a better gait, and nonrobotic movement. Both therapists and physicans agreed that I should continue with Tai Chi. There has been increase in balance going from several random jerky movements an hour to only 1-2x per week. To this day, I continue to improve in balance. 
Toni's method for teaching, and her practice of being in the moment has helped me focus on not being the injury, but rather having experienced the injury. I have gratitude for meeting Sifu Toni. It is important to me that I can continue to learn Tai Chi movements as I improve from the injury, and continue to age.
At 72, I'm looking forward to completing my 2023 goal—learning the whole form of  yang-style Tai Chi from Sifu Toni.
Peace and joy to all of you.
Sue