Last June I received an email from Cassidy Doucette, a Nurse Educator at Huntsman Cancer Institute (HCI) and in her final year of DNP school at the University of Utah. This final year of schooling involved a "scholarly project." It required her to investigate and complete a small research project on a topic that she was passionate about.
Cassidy believes in Integrative Medicine — she reached out to me because she desired to create a study on the results of Qigong and cancer patients. I was honored to be asked to teach for this study, in her words, "the content expert." I was also excited because I knew this study would be backed up with positive results. :~]
Below is a summary of her abstract:
Evaluating the Effect of Qigong on Cancer-Related Fatigue and Quality of Life
BACKGROUND
Cancer treatment can cause physical, emotional, and economical stressors on cancer patients as well as their caregivers.  Fatigue is the most common side effect associated with cancer and anti-cancer treatment, affecting 80-90% of those who receive anti-cancer drugs and radiation, and often accompanied by pain, anxiety, depression, and overall decreased quality of life. Fatigue and quality of life are complex symptoms that are not easily appeased by medication and are difficult to improve with standard therapies. Qigong is a 5,000 year-old Chinese practice that incorporates deep breathing and meditation with gentle movement and has been linked to a variety of health benefits including improving fatigue and quality of life in cancer patients.
PURPOSE
Examined the effectiveness of Qigong on cancer-related fatigue and quality of life in cancer patients and their caregivers. 
METHODS
A longitudinal cohort study was conducted in cancer patients and their caregivers. Sixty-minute Qigong classes were offered twice a week for five weeks. Recorded Qigong classes were also available online to improve accessibility. The PROMIS-29 Quality of Life questionnaire, a validated tool that assess eight domains related to quality of life including fatigue, was administered to participants at the beginning, middle, and end of the study period and results were analyzed using mixed linear effect models. Participants were also asked to complete a Journal of Experience which gathered subjective responses to Qigong reviewed at the conclusion of the study for thematic comments.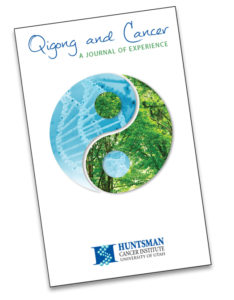 "This class improved my ability to deal with stress and helped me be a better caregiver because I'm able to be present and calm."
"Qigong makes me feel more energized and more productive."
"More awareness, more gratitude…less critical."
"There aren't many options or sources that I have gotten much relief from so it is great to find something that helps me mentally and physically."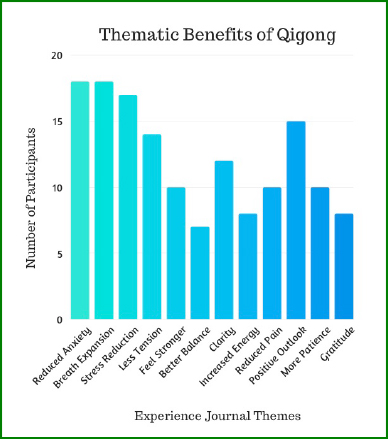 RESULTS
Twenty-three individuals completed at least two PROMIS-29 questionnaires and 20 individuals submitted their Journal of Experience for review. Results from the PROMIS-29 questionnaires were analyzed using linear-mixed-effect models.  Significant improvement was found in six of the eight domains measured. The most dramatic improvements were seen for fatigue (p = .0009) and sleep disruption (p < .0001). Other findings showed significant changes in social functioning (p = .0069), decreased pain interference (p = .0194), decreased pain intensity (p = .0150) and decreased depression (p = .0342).  No significant change was seen in physical function (p = .0596) or anxiety (p = .0871). Review of participant experience journals demonstrated that practicing Qigong reduced anxiety and increased a feeling of calm (n=18), reduced tension (n=14), reduced pain (n=10), improved balance (n=7), improved strength (n=10), increased mind and body awareness (n=17), increased breath expansion (n=17), improved stress management (n=18), and created a more positive outlook on life and self (n=15).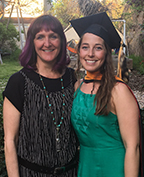 THANK YOU … Cassidy Doucette
We look forward to seeing where your passionate career takes you and how many lives you will be touching. Thank you for gracing your life and Light with mine. I do believe our work together has just begun.